A dream made real. That is what the interview Chantal de Spiegeleer, widow of the sadly deceased cartoonist René Sterne, has accorded me; has meant for me, clearing up questions I have held back for several years. In her first interview in nearly half a decade, the artist talks about her collaboration with Sterne, how she faced the continuation of the album he left unachieved and about her upcoming projects, even putting forward approximate dates and very precise reflections. It has been, as I say, an immense honour and pleasure as a comic reader to look into the mysteries surrounding Blake and Mortimer's curse and to have the opportunity to enjoy personally of my admiration for the masterpiece of this first class couple of artists, René and Chantal. Here is the result: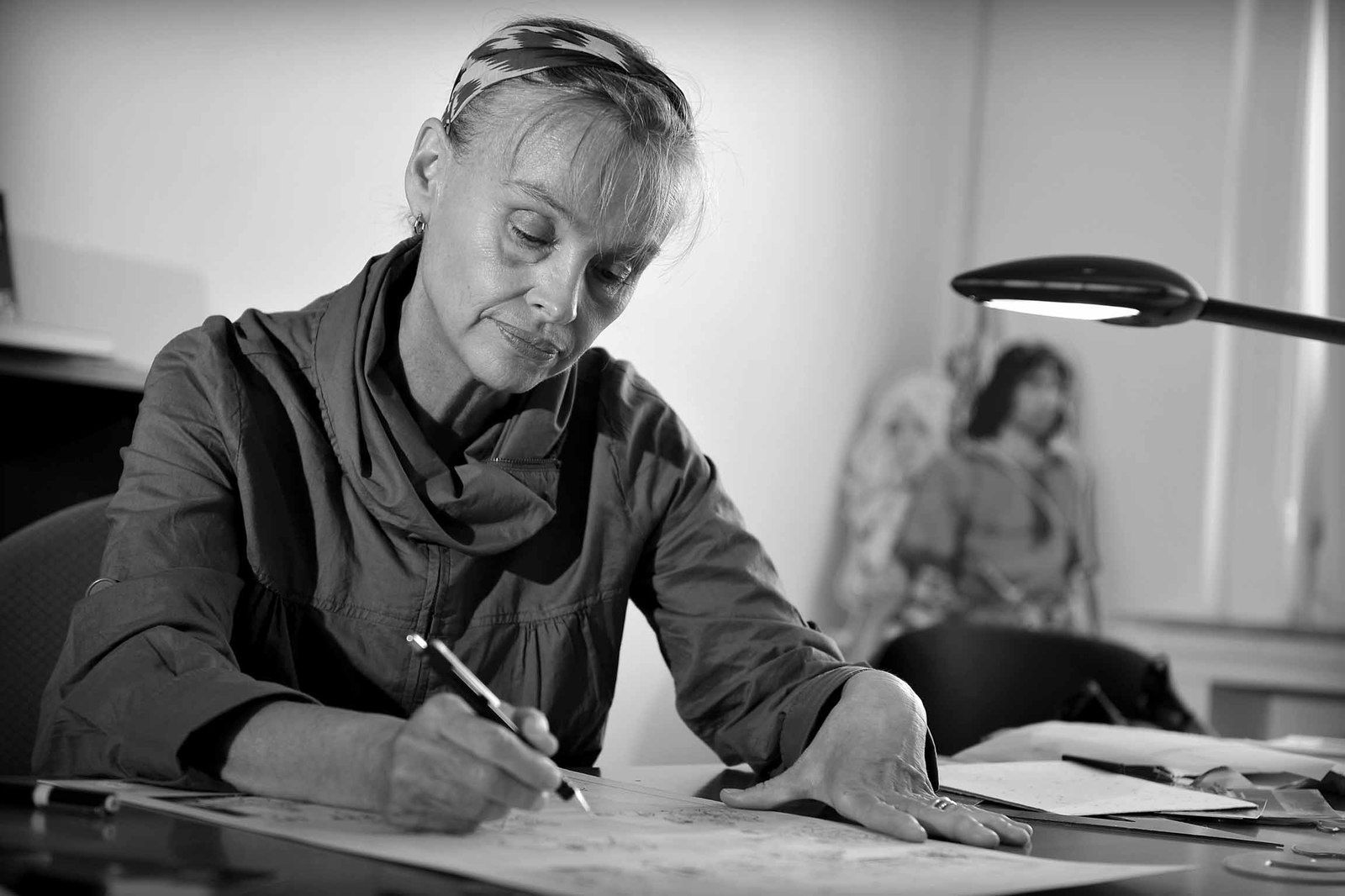 1. Your, magnificent, colouring for the Adler albums is well known. How did you work with Sterne? Did you also contribute with ideas on the characters, the stories or other aspects of the series? What was the influence on that of your other series, Madila Bay?
We influenced one another, at all the levels. Each one had its own views and influence on the other. We criticised our work for improving. Each one had its strengths, which he or she shared with the other. I influenced him on the Clear Line, at the beginning. As time went by, René found his own style, richer in details. Concerning the colouring, he let me work by myself. He was satisfied with that.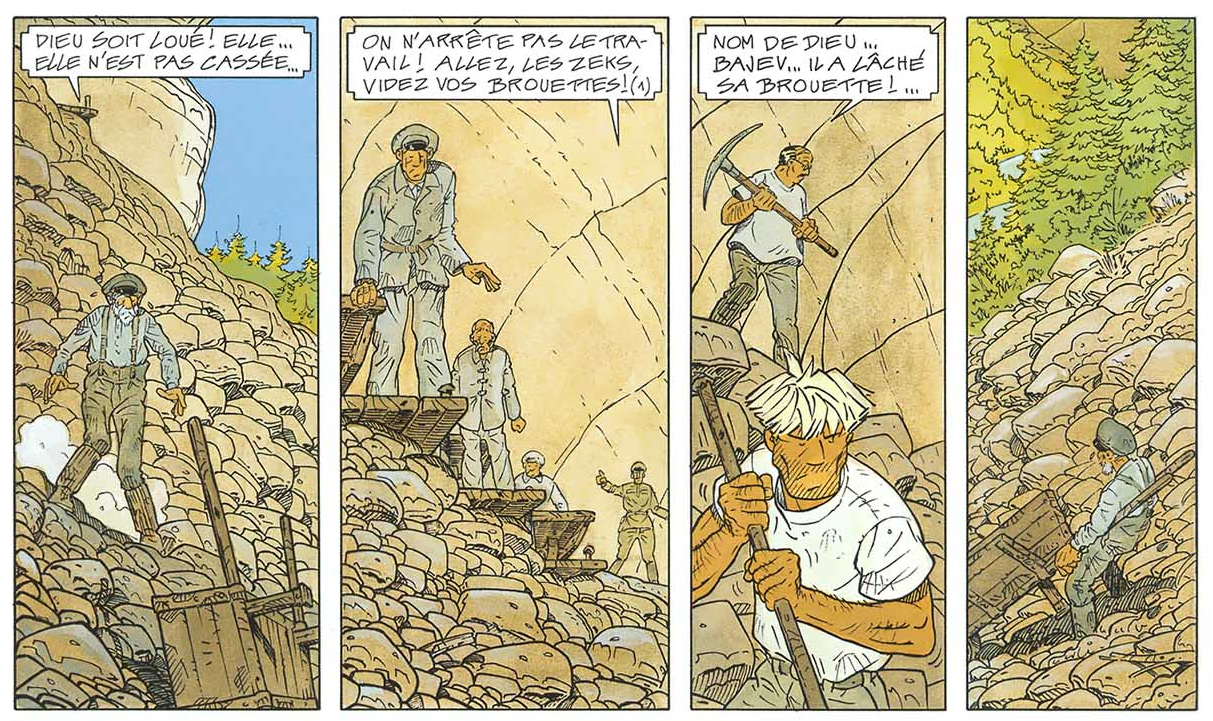 Strip extracted from The Goulag's 15th page, drawn & written by René Sterne and coloured by Chantal de Spiegeleer.
2. René Sterne published in his, unfortunately, already gone, website a cover and some details about the project he himself had created for continuing Blake and Mortimer with The Voronov Plot. What was your contribution to the project? Can you tell me more on the gestation of it, about why it was presented?
In the years before the publishing of The Voronov Plot, René was taken into account and contacted by Yves Sente, by then editorial director of Lombard, for making a test page. François Pernot, general director of Dargaud, greatly appreciated René's work. He also believed a lot in him. They (Sente and Pernot) were both convinced by the already mentioned cover project. Still, Paris wanted someone more famous. That is why they preferred André Juillard, an excellent choice as well.
Cover project and test page for The Voronov Plot (1998), by René Sterne and coloured by Chantal de Spiegeleer.
3. We know René Sterne left the sketches (more or less finished) of some pages he didn't get to ink. In the end, you redrew them following his storyboard. Why not just ink them or retouch it, taking into account their extraordinary precision, for being even more (as the album is quite homogeneous) 'coherent' with the 29 first pages that he did have time to ink?
René finished the first 29 pages before dying. For the remaining ones, he just left a storyboard in A4 format, quick, without many details, extremely natural, with several imprecise spots and blank spaces. I had to draw it all and in the format of the pages, which are always bigger than the album format. (In further conversations, and after my perseverance on the topic, the artist clarified that there did exist some precise sketches beyond page 29, from 4 to 6, but not more. Below these lines, you can check out an extract of one of them, a panel from page 34 as it was imagined by René Sterne, and which is slightly different to the one created by Chantal de Spiegeleer and featured in the final album.)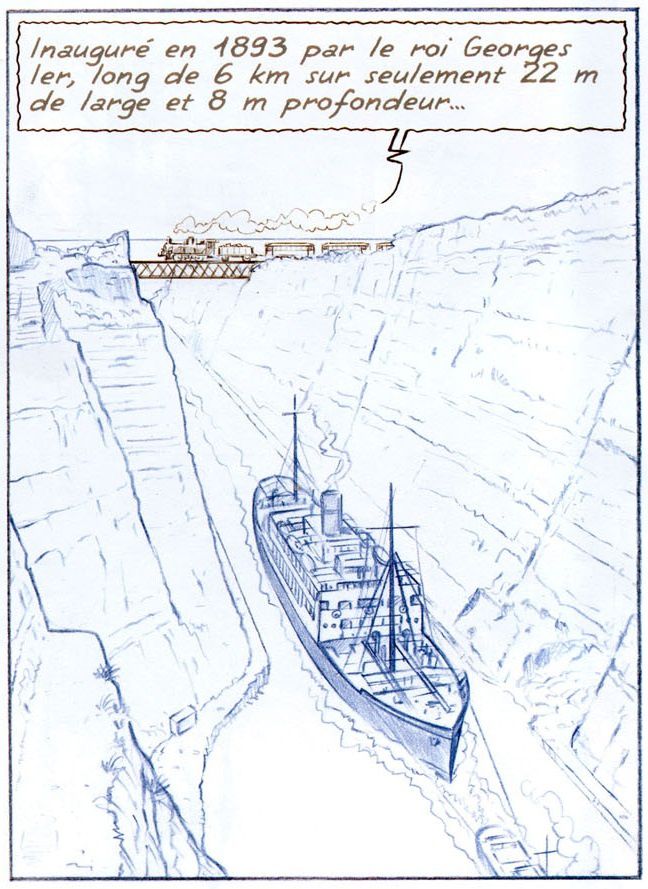 Panel from The Manuscript of Nicodemus's page 34 (in a state previous to the precise sketch and to the inking, that Sterne didn't manage to make) just as it was imagined by René Sterne, and which is slightly different from Chantal de Spiegeleer's version.
4. At the time of your continuation of Blake and Mortimer's 19th album, there was some debate on who had helped you finish the album on time, focusing on Étienne Schréder. What role did he play exactly on the album's creation? Did they ink and/or drew the backgrounds, or also some characters?
Étienne Schréder is the only one who helped me for the album. Everything was already drawn when he came into the project. He corrected some of the backgrounds, drew some more and helped me ink them. He did nothing related to the characters. He only participated due to deadline issues. The album had to be finished before the end of that year (2009.) Étienne's help was very valuable. As it was the great support, always consistent, of the publisher.
François Schuiten wanted to help me, but for bad reasons. Because it was Blake and Mortimer, of course, but he wanted to become in charge and I didn't allow him. I needed help for the backgrounds, in which he is an expert, but he wanted to do more, even without being good at drawing characters or at dealing with Clear Line itself, and he wanted to impose his way of seeing things. Therefore, I rejected his help. Still, he wanted his name to be in the album, to which I also opposed.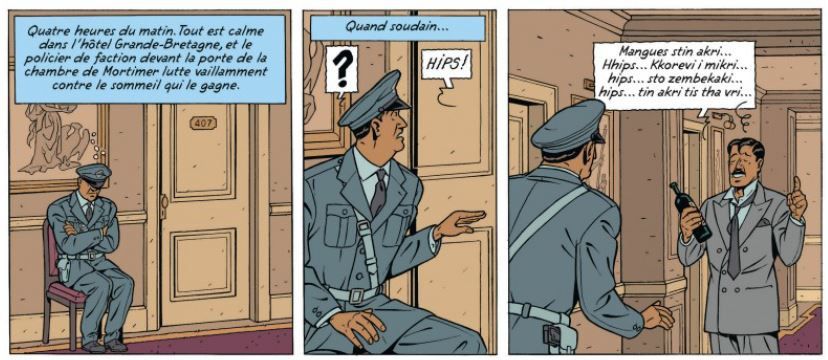 The firsdt strip of page 30 from The Manuscript of Nicodemus, in which Chantal de Spiegeleer carries on with the unachieved masterpiece signed by his deceased husband.
5. Adler had several readers and admirers by the time its creator's death occurred, and, as it is being seen, it still haves them. Would you be interested in creating a new adventure of the hero, following, perhaps, some of the projects Sterne already had in mind? Would you be interested also in returning to Blake and Mortimer, if the appropriate circumstances came together? Which are your upcoming projects?
After his last Adler album, Le Goulag, (Sterne) devoted himself completely to Blake and Mortimer. I wouldn't be able to continue Adler, because I wouldn't do it so well, especially in writing the script. Concerning Blake and Mortimer, the Publisher and Jean Van Hamme offered me to carry on, but I didn't feel capable of keeping up with the 'tight' deadlines and at the same tame make a good work. I didn't want to embarrass the publisher with such an important series, therefore I preferred to renounce.
I also had a project undergoing creation,; Le Lombard had proposed me to return to work on a series, Eclipse. I started working on it one, or two, years before René was chosen to continue Blake and Mortimer. Van Hamme had already warned me. After Blake and Mortimer, coming back to my project would turn out to be very difficult. And he was right. The density, the complexity of the project and my life's difficulties have dramatically slowed me down. I must have broken the record of delay in the global comic world. I'm still working on that project, which should be 150 pages long.
If all goes well, it will be finished by fall 2016.
Thank you for answering my questions and congratulations for your great work in your series, in Adler and in Blake and Mortimer!